Funny Garden Gnomes
During our many incursions into the world wide web, we have seen so many funny gnomes for sale it's hard to decide which ones to showcase here.
Never mind, we'll just pick some of our favourites and try to put them into some sort of order.  Maybe you will find one you like.
If you weren't looking for a funny one, see our zombies here, our rude guys here and our large ones here.
By the way – My collection focuses on funny Garden Gnomes in the UK.
Funny Garden Gnomes in the USA
Selfie Sisters Garden Gnomes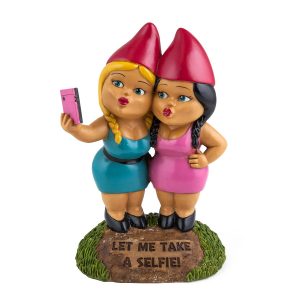 Garden Gnomes are usually traditional in design, with their red caps, white beards, boots and britches. And the men are usually pretty traditional too!
But most people are very familiar with a very modern phenomenon known as a selfie. This, of course, is where smartphone users turn the camera on their phone around and take a sneaky snap of themselves, or themselves and a friend or two.
These two extremely modern divas know how to pose for and take a selfie.
They stand there in their tight sheath dresses, their little matching caps and a very modern girlie pout.
This funny take on conventional garden gnomes is made of durable cast poly resin which will withstand the weather outside. This garden ornament is about 23cm tall and has the words "Let me take a selfie!" proudly etched into the base.
There are several good reviews proclaiming how they liked it and the great paint job on this garden statue. One suggested it would make a great present for a garden lover.  And of course it would be a perfect present for a garden loving diva. Several reviewers don't even put these gnomes in the garden but keep them as garden ornaments.
Click below to get these fabulous divas
Selfie Sisters Gnomes
Zen Garden Gnome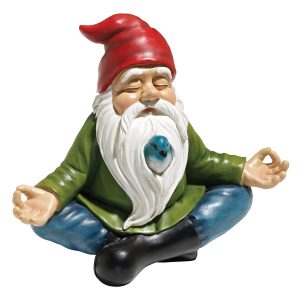 This Zen Gnome will teach you to chill out just by looking at him.
He has adopted the iconic lotus position, placed his fingers in the iconic mudra position, closed his eyes and meditated.
Taking time to smell the roses, he is just so zen that he even has a little birdie nestling in his beard!
Beautifully sculpted, hand painted and cast in designer resin bonded with crushed stone, this Design Toscano Zen Gnome is a striking gnome and would make a great gift.
He is a very traditional gnome engaging in a New-Age activity. Green tunic, blue trosers, red cap and traditional long white beard.
But he knows how to relax and how not to sweat the small stuff.
He is approximately 24cm x 12.5cm x 20.5cm and is suitable for indoor or outdoor use.
He would make a great gift for a gnome fan who also likes meditating.
You could even join him in the best meditation program available on the planet, appropriately called Zen12!  I absolutely love it and use it every day.
Zen Garden Gnome
Mankini Surf Board Gnome
This funny gnome is a standing surfer dude wearing a mankini and proudly posing beside his surf board holding his towel. The towel is red to match his mankini and the surf board is a nice sea blue with a yellow flash.
Wearing shades and showing off a huge amount of flesh, the only thing traditional about this guy is his red cap.
Made of resin and standing at about 26 inches, he is hand painted in detail and the painter had to use a lot of pink while doing his work!
Let it be Summer in your garden all year round. This guy is bound to raise a smile when people see him.
** UPDATE 27-04-2017 **
The Mankini gnome on the link above has been unavailable for a little while now
However I'm reliably informed he will be back in stock in May.
So Click below to get him before stocks run out again!
Surfer Garden Gnome
The Butcher Garden Gnome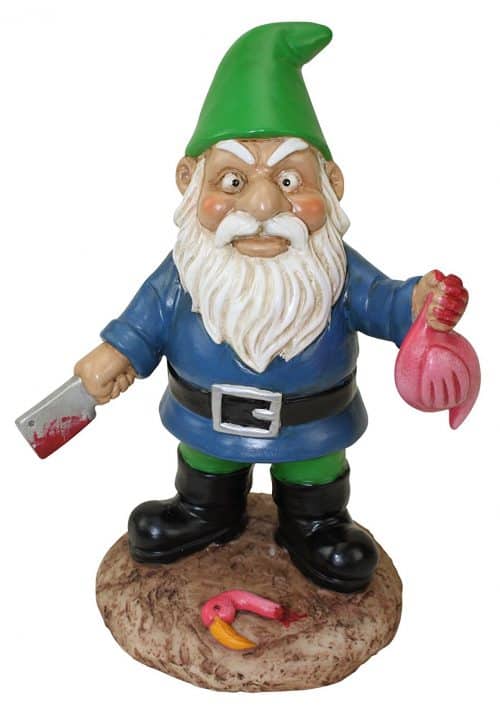 If you fancy a funny gnome that's a bit out of the ordinairy, and the biggest clue is in his name.
He's definitely a garden gnome, all the usual things are there.
He has the blue tunic, britches, green cap, black wellys, thick black belt and long white beard.
However, what he also has – and you don't often see this in a gnome – is mad staring eyes, a bloody machete and bits of a flamingo in his had!
This cast poly resin gnome has obviously been driven to distraction by the flamingoes on the lawn and taken matters into his own hands.
He is about 23cm tall and built to withstand everything nature can throw at him.
Now, I don't condone his violence but there is no doubt that this is a hilarious take on the traditional gnome and everyone who sees him in your garden won't be able to not smile.
The Butcher Funny Garden Gnome
Gnomeland Security Garden Gnome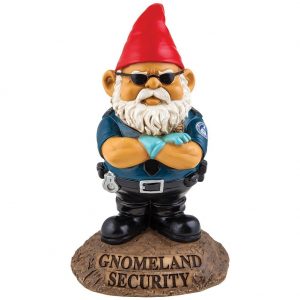 This stern looking funny garden gnome uses the traditional garden gnome character and uses a pun to imagine a character from Gnomeland Security.
Wearing shades and blue examination gloves, this guy stares forward sternly with his arms folded in an expression of strength.
A pair of handcuffs hang from his sturdy black belt, and he probably has a curly wire behind his ear which feeds him important security information constantly.
Made from cast poly resin which will withstand harsh weather conditions, this serious looking guy stand about 23cm tall and has the legend "Gnomeland Security" stamped on the base.
I saw several extremely positive reviews (although one reviewer didn't think it was heavy enough) and people thought it was great fun. I noted that one reviewer had his stolen which was ironic, but made him think it must look good!
Click below to get this great gnome
Gnomeland Security Gnome
Star Trek Gnomes
Captain Kirk Garden Gnome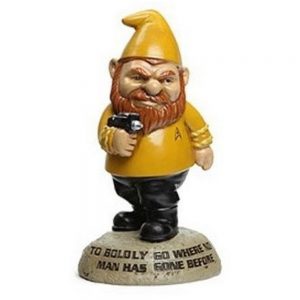 The world of Star Trek goes far beyond the tv series, and even into the world of the horticulturist.
Although I'm no expert, I'm told there are Star Trek daylillies, a hosta and even a begonia.
Another leap into the garden area by Start Trek is in these fantastic Star Trek gnomes, which are officially licensed Start Trek merchandise.
They are made of durable cast polyresin and measure 5 inches x 9.5 inches and come fully boxed.
You can get a Captain Kirk Garden Gnome by clicking below:
Star Trek Gnomes Gnomes
Game of Gnomes – Garden Gnome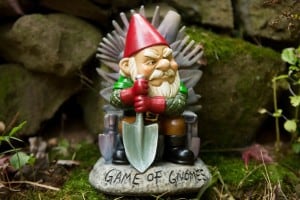 Based on the massive TV show 'Game of Thrones', this guy is sure to bring a smile to every lover of the program, and indeed every visitor to your home.
A Royal looking figure sits on a metal tool throne. White bushy beard, red cap and black boots give away his true nature but the words "GAME OF THRONES" engraved on the base beneath his feet make you look again.
Made by the blacksmith with the scraps from 1000 rusty garden tools, this ornament is handpainted and made of a weatherproof resin. Approximately 19 x 27 x 16 cm he is of a decent size and made of tough stuff to act as a defender of your property.
He will remind you of the bloodthirsty and angry characters every time you go outdoors and he will cast fear into the hearts of any unfriendly animals or neighbours that dare to stray across your property.
Add character to your garden with the Game of Gnomes. A stand-out figure for your collection.
Currently an internet best seller, this 9 inch themed gnome has been given great reviews, and most of them 5*.
Get one for yourself or get one for family or friend who is a fan of the show. It makes a perfect joke present for fans of the show.
Click the green button below for more details on this cool decorative figure.  About £20.
Game of Gnomes
Angry Gnome with a Machine Gun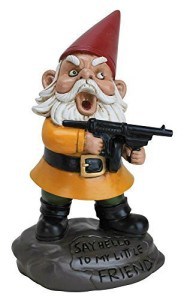 Now I'm sure that you might not think a person with a machine gun hanging around your house was funny, but an Angry Gnome with a Machine Gun? Come on, that's hilarious!
They are usually such peaceful folk, in their shirts, britches and boots, often with a gardening tool, working away in the garden.
But a machine gun? Come on, you must see the funny side of it, and so will all your visitors. Place him in the front garden and you won't get any cold callers any more.
And to see the little guy's face, so angry, his mouth wide open as if shouting somethink like: 'walk on me rhubarb, would you? Well, come out and get what's coming to you, you bas***d!'
Over 9 inches tall and made from a strong waterproof resin, this is one mean-looking gnome who would look equally great in your garden or your office.
Click below to see more and buy this fabulous gnome
Angry
The Gnominator Garden Gnome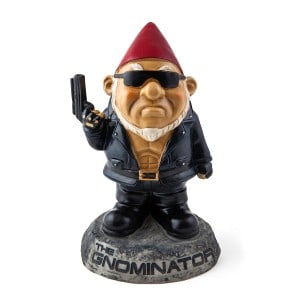 If you've ever been the victim of gnome thieves and want to protect the others from gnome-knappers, this is your guy. Looking tough (and more than a little like one of our favourite action heroes) in his black boots and leathers and carrying a fierce looking piece, no-one's gonna try anything while he's about.
The Gnominator is an extremely unusual gnome lawn ornament and a very funny gnome. It would make a great addition to the collection of any funny gnome collector, or any collector for that matter.
Made from a solid waterproof ceramic and hand painted, this guy measures approximately 15 x 13 x 23.5cm. He's heavy and solid enough that he won't blow over in the wind – just what you need.
He's Weatherproof AND bulletproof so nothing's going to stop him from protecting the other guys in the garden. To paraphrase Kyle says in T1, "He's the Gnominator and he absolutely will not stop…"
This tough guy will be a major talking point in your garden, giving all your visitors a laugh, no matter what the weather. A gnome to be adored by all fans of Terminator and Schwarzenegger, it will certainly stand out in your garden or make a great present for someone else.
What the hell, he's so good looking, he could even stay INSIDE the house, being a great ornament or desk paperweight.
Click the button below to get the great gnome at the best price
Gnominator
Say What Again – Garden Gnome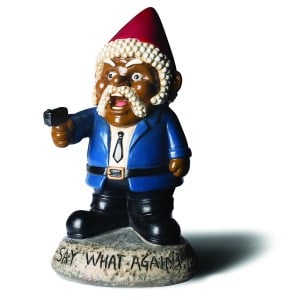 If you, or anyone you know, is a Pulp Fiction fan, then this Say what again gnome is just right for you.
There are cool gnomes and very cool gnomes but this one is just really cool.
A funny garden gnome based on the Samuel L Jackson character from the film, Jules Winnfield!
You can almost hear this fabulous guy quoting a version of Ezekial 25:17 – "The path of the righteous gnome is beset on all sides by the unfairness of the weeds and the tyranny of evil cats. Blessed is the gnome who, in the name of charity and brotherliness, shepherds the lost woodland character through the garden from front to back, for he is truly his owners guardian and the finder of lost keys."
Gardening is meant to be relaxing but can you really be relaxed with a face as mean as this one and a 9mm gun pointed in your direction? The motif on the base "Say What Again" verbalises the attitude that oozes from every inch of this gnome.
Just be pleased that he's on your side. Every Gnome and Jules in particular hold loyalty paramount in their moral code. You don't get loyalty from every garden ornament.
Measuring 17.4 x 16.6 x 27.1cm, made of polyresin and heavy enough not to fall over in the wind, this fella makes a great addition to your garden, or would be a great present for a fan of the movie.
Click the button below to see the best price for this cool ornament.
Say what again
Ninja Funny Garden Gnome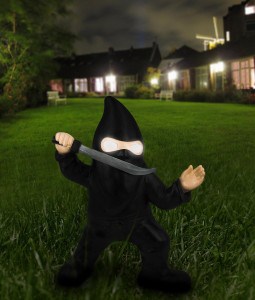 This is a Ninja Gnome, the Light up Ninja Gnome.  If you are looking for distinctive gnome yard ornaments, this one might fit the bill.
Hand made from resin, this scary character is also made in the tradition of the Ninja and dressed in black from head to toe.
The unusual thing about this guy is that his eyes have LEDs in them and they LIGHT UP IN THE DARK.
A bit cheaper than Ninja Gnome #2, this distinctive ornament is definitely worth a look.
Click below to see more and buy
Ninja Gnome 1
Ninja Funny Garden Gnome # 2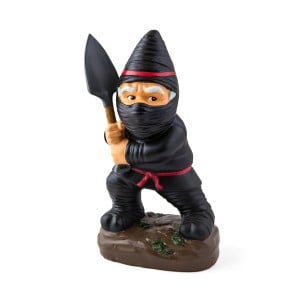 Peeping out from the bushes this Ninja Gnome is sure to catch the eye of passing neighbours and friends.
Fashioned in the style of the Ninja, this gnome is dressed head to toe in black except for the red sash of his belt and headband. His eyes glance menacingly from side to side and he brandishes a garden trowel in a threatening way. You just know he can kill silently without you ever knowing he was there.
Approximately 9 inches tall this ninja ornament is hand painted, made from resin and weatherproof.
Click the button below to find out more.  
Ninja Gnome 2
Where have theses Funny Gnomes gone?
It's a sad fact that some of my gnomes seem to dip in and out of stock at certain times of the year.
I loved them when I put them in the collection but I don't want you to be disappointed if you find them out of stock.
So the collection below may no longer be easily available.
But if you love them, cross your fingers, give 'em a click and hope for the best!!
Rocker Funny Garden Gnome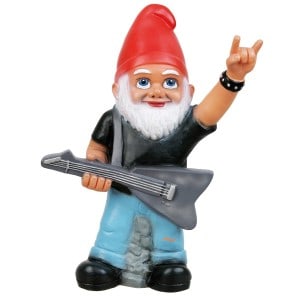 With his flying V guitar, strumming arm raised high in the air and his fingers shaped into the well known metal horns gesture, this is the garden gnome of the metal fan.
The horn gesture (index and little finger extended, middle two fingers down) is said to have been defined as a rock gesture in 1979 by Ronnie James Dio, singer with Rainbow and Black Sabbath. It had been used in the 60's by Coven's Jinx Dawson and a cartoon Lennon was doing it on the cover of Yellow Submarine but it was it's use by Dio that really started it off in metal fans. Many think it a sign of allegiance with the devil but it's origin is in a way to scare off the evil eye.
Famous flying V players have been Jimmy Hendrix, Lenny Kravitz, Michael Schenker and this guy! He is a rock god.
This Rocker is about 10 inches tall and is made to an extremely high standard. He is hand painted using a colour-fast paint that will not fade and each piece is individually made.
A great design and a funny lawn gnome.
Rocker
Spock Garden Gnome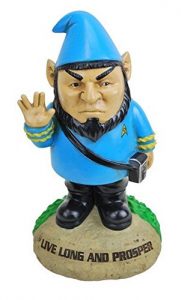 These unique themed gnomes would make a fantastic addition to a gardener Star trek fan.
They could even be used as table centrepieces in Star Trek themed weddings and events.
Click below to get this great Spock Gnome for about £20.
Game of Gnomes
Star Trek Gnomes – Gorn & Kirk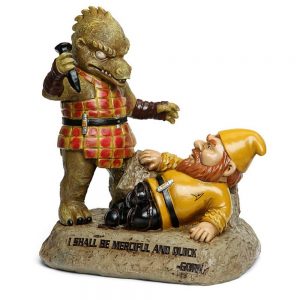 There is also a further Star Trek gnome which features one of the Gorn, a reptilian humanoid species that first appears in the original series episode "Arena".
The Gorn is depicted in the series as a slow moving hissing, but very dangerous beast.
Read more about the Gorn here: https://en.wikipedia.org/wiki/Gorn
In this Star Trek garden ornament, the Gorn stands over Kirk who is lying on the ground, probably having been knocked down. The Gorn brandishes a weapon and looks threatening.
Below the figures is the legend "I Shall be merciful and quick – Gorn"
Again Officially licensed Star Trek merchandise, the ornament is made of durable cast polyresin and comes boxed. It is 8″ long x 6″ deep x !0″ tall.
Get it for about £28 by clicking below.
Star Trek Gorn & Kirk Gnome
So that's my collection of funny gnomes.
If none of them tickled your fancy, Funny Range. Happy searching!
If it wasn't a funny you wanted, see our zombies here, and our large guys here.
You can see offensive garden gnomes here, obscene garden gnomes here and mooning garden gnomes here.
I hope you liked our funny garden gnomes.  If you did – or even if you didn't – let me know. I'd love to hear from you.